Cats are fascinating animals. One minute they are these natural hunters so eager to chase and pounce. The next minute they hold up to their reputation for being lazy – sleeping most of the day, lounging on the sofa and grooming. Either way, investing in good quality interactive toys for cats is well worth it! They can encourage your cat's instincts to hunt, stimulate them and keep their lazy persona active for long-term health and wellness. Win-win! 
We Have Seen Many, But These Five Interactive Toys For Cats Top Our List
1. Roller Circuit Toys
Usually made of a covered track with a light-up ball inside, your kitty's playful paws can tap on the cover, and chase the ball but can't remove it. The constantly rolling ball is similar to the concept of a prey animal running, hiding and appearing.
Check out:  Catit Senses Roller Circuit, Catit Senses Wave Circuit
Image Credit: Catit.com
2. Puzzle Cat Toys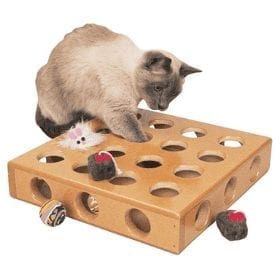 Puzzle toys are great interactive toys for cats. They are typically made of a chamber with several holes big enough to fit cat paws. Inside the toy are a variety of objects that the cat can move them by reaching through the holes. Instant victory for your feline friend! Puzzle toys encourage your cat's natural predatory behaviour, stimulate them mentally and boost their confidence
Check it out: Smartcat Peek a Prize Toy Box
Image credit Pet Circle Australia.
3. Teaser Toys
Bond with your pet using teaser toys such as an air wand toy. It consists of an adjustable wand, a telescoping handle and retractable cord. At the end of the string is a detachable feather toy that you can interchange with another fun toy when your cat gets bored. This innovative toy is excellent for interactive play.
Check Out: Jackson Galaxy Air Prey Wand
4. Laser Pointer Toys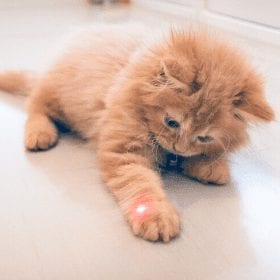 If you notice your cats getting pudgier, then it's time for some cardio workout! Try automatic laser pointers. The random laser point patterns are designed to mimic the movements of prey. Set them up, turn them on, and watch your cat run as they try to catch the red dot.
You can also opt for manual laser pointers if you want to join in the fun! Just point the laser at the floor or wall and watch as your kitty run rampant, jump and pounce.
Check Out: FroliCat BOLT Interactive Laser Light Toy, Kong Cat Laser
5. Multi-Level Tower Tracks Roller Toys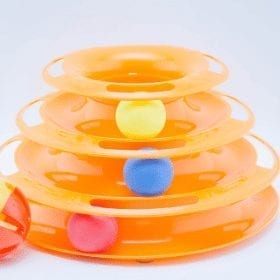 Encourage your cat's love for chasing balls with the multi-level tower track roller toy. It has three levels of tracks and three brightly coloured balls. This toy will entertain even the most energetic kittens, and adults will keep swatting the balls around for a long time.
Check Out: Petstages Tower of Tracks for Cat
Interactive Toys For Cats Bring Out Their Nature
Cat play is essential for a cat's physical and mental stimulation. Using tools such as interactive toys can engage their instincts and natural behaviours. Choose the ones suited for your cat's personality to keep them entertained, healthy and active. 
Keep reading our BLOGS for more amazing pet care articles.